Before investing in a new spray gun, it's obviously important to do your homework in terms of what type of gun you should be considering for the possible applications with various substrates. You need to be aware of transfer efficiency, compliance and so on.
But it is also important to consider what opportunities this presents. What pain have you been living with in your finishing operations? Maybe your reject rates are unacceptable or have been increasing. Perhaps you have been wasting material, or you need a round of operator training, or you need to establish best practices for daily shutdowns, cleaning and maintenance.
The many variables in a finishing operation can be a bit overwhelming, which is why you should consider consulting with the experts at Spray Equipment and Service Center to learn how you can get the most out of your next spray gun purchase. A DIY approach to buying a spray gun might work for some simple spray operations, but we offer an incredible amount of industry knowledge and experience to help you spend less and profit more. We can be an incredible resource.
Questions You Should Be Asking In Your Purchasing Process
When you visit the doctor's office, your physician takes time to ask questions about your health and activities before making a diagnosis or prescribing an approach or treatments. We take a similar approach to helping you buy a spray gun and the appropriate components.
We learn about your operation from multiple perspectives to ensure we uncover every opportunity for output, efficiency and savings. We look at:
Goals, objectives and opportunities

Tools, applications and processes
We work backward from your process, manufacturing routine, and output goals to form the basis for our recommendation, whether it's replacing a spray gun or designing a custom-crafted solution. We focus on the results most important to you and your business goals. Our experts will help you arrive at the best possible solution.
Goals And Objectives Opportunities
The starting point in any discussion about spray guns or anything equipment-related begins with what you are trying to accomplish. Yes, it's a finishing application. But new equipment should help you be more efficient, through more output or less waste or both. Ask yourself:
What are the hurdles you face?

What are your bottlenecks?

What other pains are you experiencing?

Are you up to date with the latest compliance requirements?
Perhaps you feel like you are using too much material. If you think you are wearing out parts too quickly, you might check the state of the needle. If the needle is bad, the nozzle will wear out more quickly.
It's also possible that the best solution for your specific needs might not be a conventional spray gun. You might be better off with a powder coating application.
Tools
Every spray gun user should be doing a regular review of his or her equipment, even if your operation seems to be in good order and you are just looking for a replacement spray gun. Equipment makers frequently improve their technology, not only for spray guns but other components. We may be aware of a recent improvement that could help your efficiency.
Are you using the most up-to-date technology?
Is your gun the most transfer efficient for what you are applying?

Are your operators getting the most out of the equipment?
Applications And Process
Likewise you should be reviewing your operation as well. It's not unusual for operators to adjust their processes to accommodate certain conditions or issues, which can result in complacency.
Do you follow best practices for shutdown, clean up and maintenance?

Where are you getting your help and advice?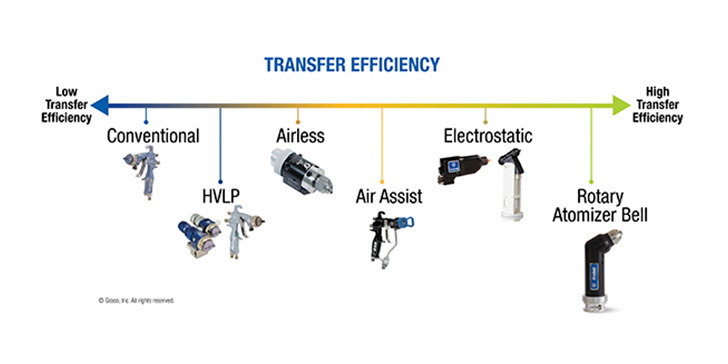 Sorting Through the Many Options for Spray Guns
Selecting the most efficient spray gun for the intended application is important to optimize your operation, whether you are an on-site contractor or run a production line. Each spray technology – conventional air spray, compliant, HVLP, air assist, electrostatic and rotary atomizer – has its advantages and disadvantages. It all depends on the finishing results needed for the material being sprayed.
But that's why expert help is so valuable. Maximum performance is all about transfer efficiency, which comes from creating the best atomization possible. But fine tuning the apparatus varies greatly with the technology. With an air spray gun, you fine-tune the air pressure. With an airless spray gun, you fine tune the pattern through fluid pressure and tip size.
Even if you have the best possible equipment for your job, you will compromise your performance if you do not follow best practices for daily startup and shutdown, troubleshooting and maintenance. We also can make sure you are compliant with OSHA rules and other regulations.
Among the factors that will impact your decision on which spray gun to buy are:
Type of paint/material

Volume of paint being applied

Type of substrate

Spray pattern and quality of finish

Transfer efficiency to minimize waste

Nozzle (tip) and cap options

Horse power and air pressure

Available power source

Distance between pump and spray gun

Operating environment

Portability

Maintenance requirements.

Cost of the spray gun vs. total cost of ownership of your finishing setup
Air Spray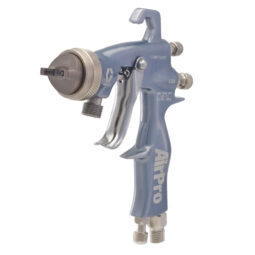 Air Spray guns are the most common type of spray guns, including Conventional, Compliant, HVLP, LVMP, Trans Tech, and more. With all of the potential technologies to consider and variables involved, selecting a spray gun can be a bit overwhelming. We are happy to help you find the right spray gun for your needs.
Airless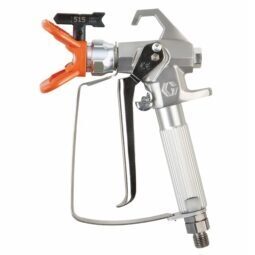 The key to airless spraying is to provide enough fluid pressure at the gun to atomize the material into a pattern that provides consistent coverage. In selecting airless spraying equipment, you also should consider: available power source, distance between pump and spray gun, viscosity of the coating, operating environment, and portability. For more information on airless sprayers, see the Graco contractor guide or give us a call at 866-953-0526.
Air-assisted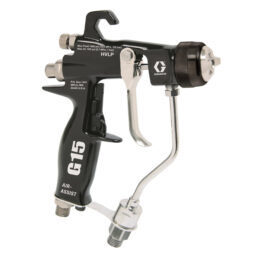 You can achieve top-notch results with air assist spray guns that produce superior transfer efficiency and atomization. Both manual and automatic applicators feature:
Air caps designed for specific materials, including general finishing, wood lacquer, low viscosity, high viscosity, quick drying and waterborne

Fine finish and pre-orifice spray tips that eliminate pattern streaks and deliver a consistent, exceptional finish
Electrostatic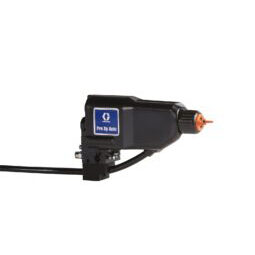 Electrostatic spray paint guns, when used correctly, will increase the finish quality and production throughput. You can achieve significant cost savings with its high transfer efficiency and an even coating. Electrostatic spray guns are known for even coating, which means less paint goes to waste. Achieving greater transfer efficiency also helps decrease emissions.
Rotary Atomizer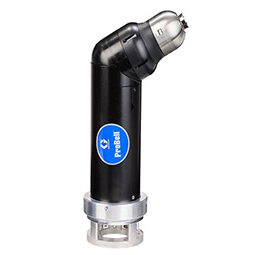 Fluid is delivered with a low-pressure supply, much the same as other applicators, but the difference with a rotary atomizer spray gun is that the fluid is distributed with a spinning cup. The bell cup is spinning at 20,000 to 60,000 revolutions per minute, so the paint is subjected to high centrifugal force. The centrifugal force breaks apart the paint into a fine cloud of fluid particles, which means the droplet size is finer and more consistent than other atomization methods. This delivers a high-quality finish with up to 95 percent transfer efficiency.
Why buy from Spray Equipment & Service Center for your paint or coating needs?
We are your trusted partner for all things Spray. Our service is the same regardless of the technology you buy. We provide added value through:
Advice: Our experience, expertise and approach work for you at every stage

Supply: We have the right equipment and parts

Service: We are just a phone call (866-953-0526) away. Or here for a live chat. In any case, we will be with you for a long time.
We build enduring trust and confidence in our relationships by being responsive, meeting deadlines and striving to meet your highest expectations. We have access to the latest spray finishing, coating, sealing, and adhesive dispensing technology in the industry. Let us put our talent, technology and service to work for you. Let's talk.