Orders may be eligible for $100 off shipping
See details
.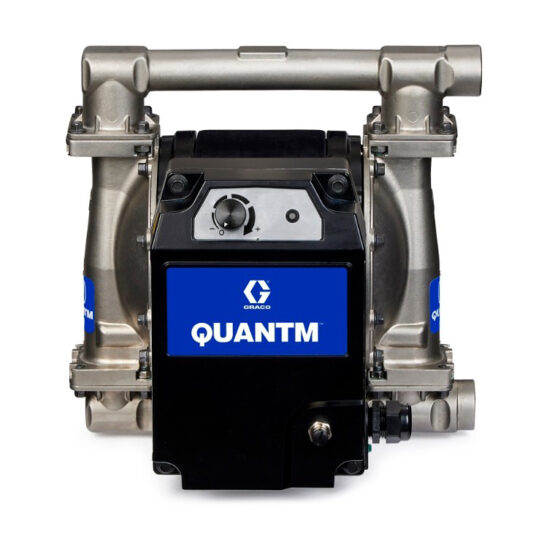 Graco TE30-0314
QUANTM i30, 1"NPT, Stainless Steel Electric Diaphragm Pump
FluxCore Drive, 120 VAC 1Φ, AL Center, SS Seat, PT Ball, PS Diaphragm
Part #: TE30-0314
$4,920.00
Questions? Call us at 800-666-6072
Features
QUANTM isn't just another electric pump: it's a game-changer. QUANTM features a revolutionary electric motor design that will reduce operational costs and delivers the reliability to keep your production lines running. With multiple fluid path options containing different materials of construction, QUANTM is ideal for most fluid applications as a highly reliable drop-in replacement for your current less-efficient pneumatic pumps or a perfect fit for greenfield construction. The unique self-priming, seal-less design delivers smooth and steady flow and is the only electric diaphragm pump on the market that stalls under pressure to reduce downtime caused by pump failures from clogged lines or closed valves. QUANTM is engineered to be quieter, more efficient and ultra-dependable while delivering energy savings that will go a long way to reinforcing your sustainability reputation. It's time to rethink your pump strategy and elevate your bottom line by converting to a QUANTM electric pump.
The stainless-steel fluid section is designed to provide a high level of abrasion and corrosion resistance. With up to 8x more continuous torque at low speeds than conventional motors, this electric pump is an energy-saving workhorse that also delivers lower lifetime costs than less efficient pump technologies and is ideal for applications involving materials that are highly abrasive, paints, solvents or heated materials. This additional resilience means less downtime, which in turn provides a new opportunity to improve your bottom line. This powerful new pump delivers a higher level of reliability to minimize downtime while the plug-and-play design makes it easy to drop into any production line without additional investment or infrastructure rework.
Revolutionary Design

Replace existing air operated pumps with electric pump technology that stalls under pressure and includes AutoPrime feature
Patented FluxCore drive removes the gearbox providing a comparable footprint to a pneumatic diaphragm pump
Up to 80% reduction in energy consumption compared to pneumatic pumps, reducing operating costs and providing a quick investment payback
Quiet operation reduces plant noise and improves employee safety and health
Smart pump control provides more accurate flow set points and built-in I/O

FluxCore Motor

Powder-coated aluminum FluxCore drive
120 VAC 1Φ motor with 15 ft flying leads
CID1 Groups C,D,T4 Zone 1 AEx d b IIB T4 Gb hazardous location approval

Materials of Construction

Stainless steel fluid section with NPT end port
Internal components include 316 stainless steel seat, PTFE ball, PTFE/Santoprene 2-piece diaphragm and PTFE manifold o-ring
Specifications & Documents
Technical Specifications
Fluid Section Material
SST (S1)
Check Valve Material
PTFE (PT)
Diaphragm Material
Stnd PTFE (PS)
Hazardous or Non-Hazardous Location
Hazardous