Orders may be eligible for $100 off shipping
See details
.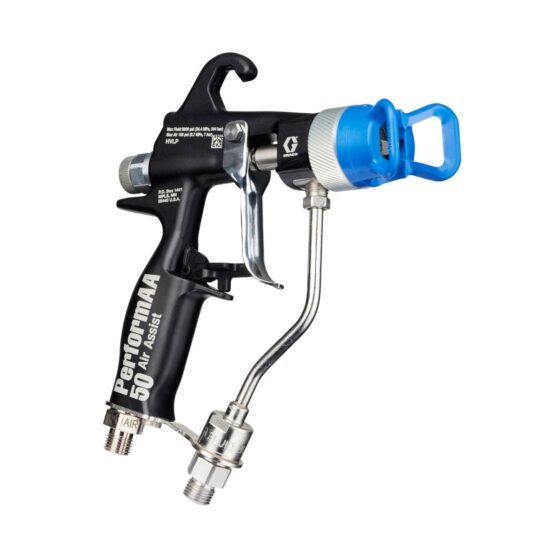 Graco 26B510
PerformAA 5000 Air-Assist Gun, General Finishing
With general finishing air cap.
Part #: 26B510
$1,100.00
Questions? Call us at 800-666-6072
Features
Get your hands onto PerformAA air assist spray guns for fine finish applications of various solvent-borne paints and coatings. This 5,000 psi model is ideal for facilities that are using both air assist and airless applicators. The included Polytetrafluoroethylene (PTFE) nickel-coated air cap atomizer tails at lower pressure. PerformAA 50 includes an AXM or AXF spray tip, a 100 mesh inline fluid filter, and a carbide seat and carbide ball.
High quality 5000 psi air-assist spray gun
General finishing air cap for a wide range of materials
Carbide fluid seat and carbide ball for durability
Fine finish, AXM, or pre-orifice, AXF, spray tip included as tip of choice
Clicking fan pattern adjustment knob for accurate adjustment
Specifications & Documents
Technical Specifications
Max Working Fluid Pressure (PSI)
5000
Max Working Air Inlet Pressure (PSI)
100
Maximum Operating Temp
110 F
Air Inlet Thread Gender
Male
Air Inlet Thread Type
NPSM
Fluid Inlet Thread Gender
Male
Fluid Inlet Thread Type
NPSM
Product Model
PerformAA 50 Guns
Spray Type
Air-Assisted Airless
Atomization Type
Air-Assisted Airless
Pressure Type
High Pressure