Orders may be eligible for $100 off shipping
See details
.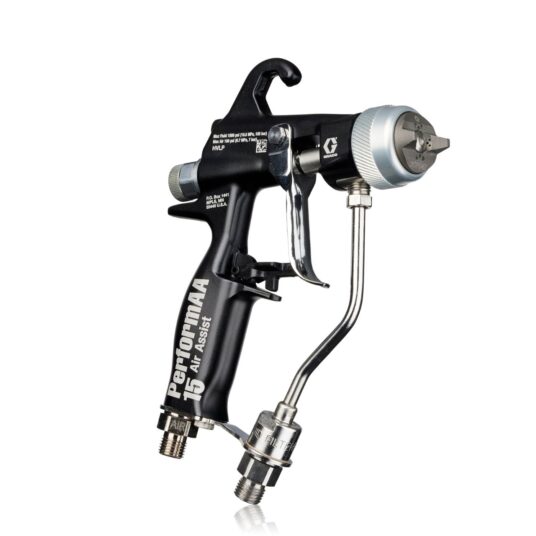 Graco 26B503
PerformAA 1500 Air-Assist Gun, Wood Lacquer, Fluid Swivel Connector
With wood lacquer air cap, light trigger pull and fluid swivel connector.
Part #: 26B503
$1,050.00
Questions? Call us at 800-666-6072
Features
Choose PerformAA 15 air assist gun to spray at 1,500 psi for optimal performance at low and medium pressures for wood finishing, toners, and stain. Every PerformAA includes an AXM or AXF spray tip, a 100 mesh inline fluid filter, and a carbide seat and carbide ball. This model also includes a fluid swivel connector. Get Performance Above All with an ultra light trigger spring, optimized balance, and ergonomics.
High quality 1500 psi air-assist spray gun
Wood lacquer air cap for wood finishing top coats and lacquers
Includes a low profile fluid swivel
Fine finish, AXM, or pre-orifice, AXF, spray tip included as tip of choice
Trigger pull force is ultra-light, reducing operator fatigue and muscle stress
Specifications & Documents
Technical Specifications
Max Working Fluid Pressure (PSI)
1500
Max Working Air Inlet Pressure (PSI)
100
Maximum Operating Temp
110 F
Air Inlet Thread Gender
Male
Air Inlet Thread Type
NPSM
Fluid Inlet Thread Gender
Male
Fluid Inlet Thread Type
NPSM
Product Model
PerformAA 15 Guns
Spray Type
Air-Assisted Airless
Atomization Type
Air-Assisted Airless
Pressure Type
High Pressure