Orders may be eligible for $100 off shipping
See details
.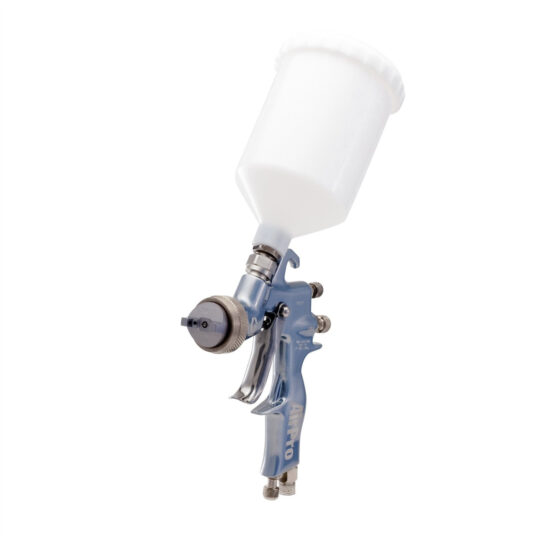 Graco 289015
AirPro Air Spray Gravity Feed Gun, HVLP, 1.8 mm Nozzle
0.070 inch (1.8 mm) Nozzle, with Plastic Gravity Cup.
Part #: 289015
$643.00
Questions? Call us at 800-666-6072
Features
AirPro gravity feed spray gun from Graco is a better choice thanks to its efficient and versatile design. The pre-fitted HVLP air cap and 1.8 mm nozzle help create positive fluid pressure for an excellent finish using medium viscous coatings. The AirPro is equipped with a durable plastic cup for interruption-free operation. Whether you're a professional painter or a DIY enthusiast, the AirPro gravity spray gun is the ultimate tool for achieving a smooth, even coat.
Even material distribution through the spray pattern for optimum coverage
Improved transfer efficiency through reduced air consumption
Enhanced atomization through material-specific aircaps
Well balanced and lightweight (410 grams) gun makes it easier to spray at a steady rate all day
Ultra-light trigger pull reduces operator muscle stress
Ergonomic gun handle provides a comfortable grip
Rounded control knobs for operator comfort
Optimize spray performance with our cutting edge aircap and nozzle design
Choose from a wide range of gun models to meet the needs of your specific application
Specifications & Documents
Technical Specifications
Air Inlet Thread Type
NPSM
Compatible Material
CARC, Enamel, Epoxies, Fast-Set, High Solids, Latex, Plural Component Materials, Sealants, Solventborne, Urethane, Waterborne
Fluid Inlet Thread Gender
Female
Fluid Inlet Thread Type
NPSM
Includes
Air Cap, Needle Assembly, Nozzle, Tool Kit, Cup