Orders may be eligible for $100 off shipping
See details
.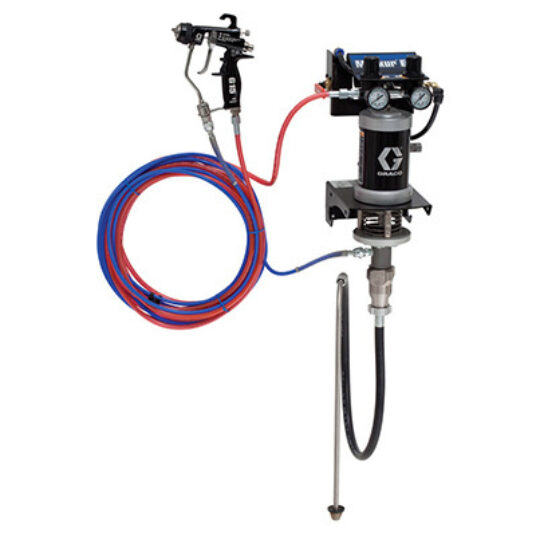 Graco G10W08
Merkur 10:1 AA Package, 1.2 gpm, G15 Gun, Wall Mount, DataTrak, Fluid Filter
10:1 Merkur Pump, Wall Mount, G15 Gun, Pump Air Controls, Gun Air/Fluid Hose, Suction Hose, DataTrak, Fluid Filter
Part #: G10W08
$6,930.00
Questions? Call us at 800-666-6072
Features
Merkur Air-Assisted (AA) fine-finish package is the perfect combination of high-quality performance and cost-effective spraying solution, even using heavy-viscous coatings at a 1.2 gpm (4.5 lpm) flow rate. Merkur AA air spray package combines a wall-mounted air pump whose outlet pressure is 10 times higher than the pump feed air pressure, PerformAA 15- general finishing pressure gun, fluid filter and 7.5 mm suction hose. You can now adjust pressure and output more precisely using our patented DataTrak panel fixed on the pump.
Proven to outperform and outlast other pumps in their class
Highest technology air motor on the market
Low air consumption for increased efficiency
Muffler provides low operating noise levels
External valve access allows for easy servicing and online replacement to minimize downtime
Operator Control Panel located at operator height for easy setting and monitoring
Throat seal and rod enclosure protects pumped material and wet cup from contamination but can be easily removed to monitor and service
Specifications & Documents
Technical Specifications
Max Working Fluid Pressure (PSI)
1000
Max Working Air Inlet Pressure (PSI)
100
Air Inlet Thread Gender
Female
Fluid Inlet Thread Gender
Male
Fluid Inlet Thread Type
NPT
Includes
Pump and Gun Air Controls; Gun Hose; Suction Hose; Fluid Filter; DataTrak Monitor
Product Model
Merkur AA Spray Package
Spray Type
Air-Assisted Airless
Atomization Type
Air-Assisted Airless
Pressure Type
High Pressure