We are adding more products to our website.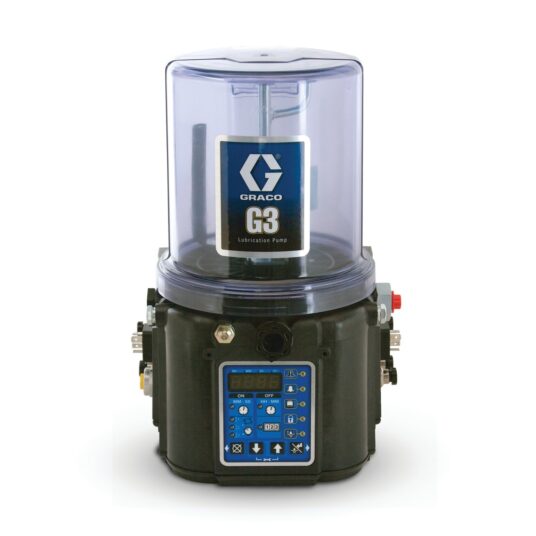 Graco 96G118
G3 Max Grease Pump, 90-240 VAC, 4L, LL with Controller
G3 Max Grease Lubrication Pump, 90-240 VAC, 4-Liter Reservoir, Low Level with Controller, 3 Sensors, DIN, Machine Count, Vent Valve Output, DIN Alarm Output, Connection for Remote Manual Run
Part #: 96G118
$1,910.00
Features
Built-in controller with selectable pump on/pump off timer has low level warning and shut-down alarm or set up faults to an external alarm. Comes with manual run and password protection with pre-lube function to initiate lube cycle on startup. Mix and match up to three cycle and pressure switches for custom installations and feedback. Machine count input is ideally suited for inconsistently used equipment.
Built-in controller with selectable pump on/pump off timer
Low level indicator provides low warning and shut-down alarm
Manual run initiates lube cycle on-demand (remote option also available)
Password protection safeguards settings
Pre-lube function can initiate lube cycle on start-up
Up to three pressure or cycle switch inputs to ensure proper lubrication cycles
Fault indication to external alarms
Specifications & Documents
Technical Specifications
Application
In-Plant Machine and Conveyor Lubrication
Compatible Material - Lubrication
Grease
Max Working Fluid Pressure (PSI)
5,100
Number of Outlets
Includes one adjustable pump element - standard, plus room for two more.
Includes
4-Liter Reservoir with Wiper Arm
Maximum Flow Rate (GPM)
Output per Element / Min.................0.12 Cubic inch
Fluid Outlet Gender
Female